Pottery art in Sifnos
The art of pottery and ceramic traditional products of Sifnos
The potters of Sifnos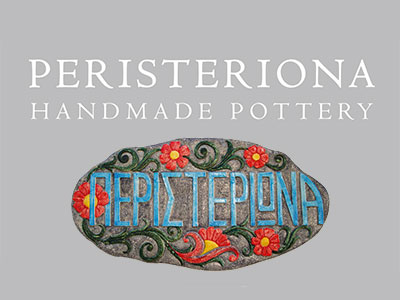 Kamares, Sifnos
Besides their pottery studio in Maroussi, exhibition and pottery for sale is available at Peristeriona, a pottery shop located in the port of Kamares, Sifnos, which operates during the summer since 1989...
Open:
JAN
FEB
MAR
APR
MAY
JUNE
JULY
AUG
SEP
OCT
NOV
DEC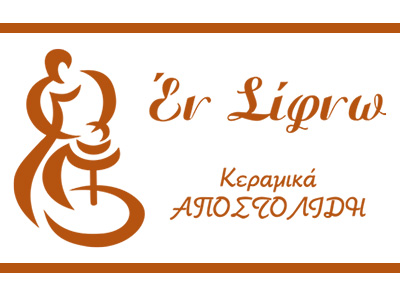 Kamares, Sifnos
Items that you are going to love for their authenticity...
Open:
JAN
FEB
MAR
APR
MAY
JUNE
JULY
AUG
SEP
OCT
NOV
DEC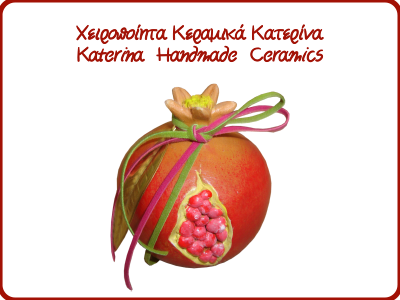 Kamares, Sifnos
By applying the method of pottery, she gives the clay original shapes, in a unique way. Ceramics in the form of pomegranates, nuts...
Open:
JAN
FEB
MAR
APR
MAY
JUNE
JULY
AUG
SEP
OCT
NOV
DEC
Pottery is perhaps the best-known product of Sifnos. The island, since ancient times, has a great tradition in pottery, an art which is still practiced to date. Many young Sifnians potters work the clay with excellent results giving a unique character in their creations. Pottery shops can be found throughout the island and the only sure thing is that it will be hard to make a choice. Buy utilitarian items (cups, cookware, trays, etc.), or decoratives in soft or bold colors, with elaborate designs or leaner decorations.
Pottery art
Sifnos is the bulwark of development and diffusion of pottery in Cyclades.The first samples of the art of pottery are dated from the Protocycladic period (statuettes, decorative and handy articles) and from back then till today this art continues. The abundance of raw materials in Sifnos (deposits of potter's clay, abundant waters, strong sunshine), as well as the dexterous hands of the artisans have helped in the development of this art.
At first, the potter's workshops (also known as tsikaladika) were installed in the hinterland near Artemonas and Ano Petali, in order to be protected from the pirates' invasions, who were dominating in the Aegean.
Later, they have been transferred to Sifnos' bays and especially to the bays that were protected from the strong north winds. Visitors of Sifnos can find traces of old potteries at littoral villages such as Faros, Platis Gialos, Kamares and Vathi.
The residents of sifnos spread their art all over Greece, while many potter's workshops have been established by residents of Sifnos or by others, who have been appendices to them. Today, there are more than twelve potter's workshops in Sifnos, contributing to the maintenance of our ancestors' tradition.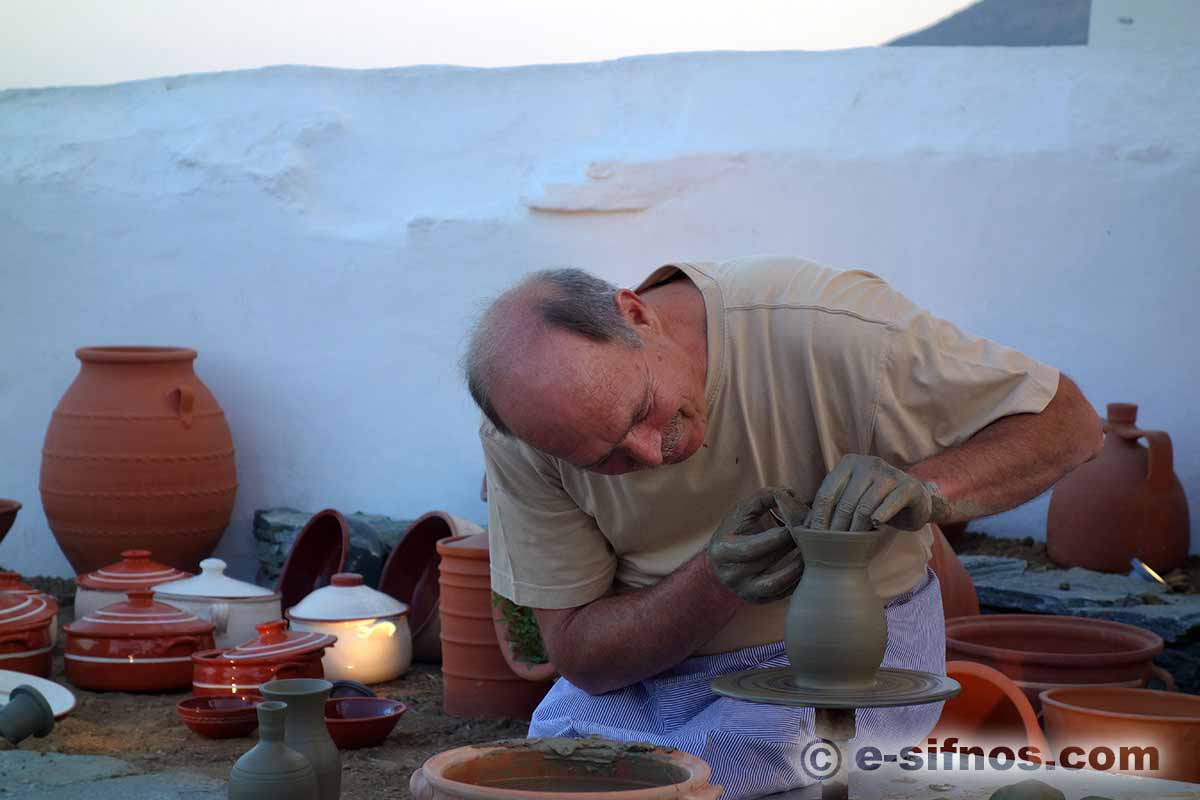 Thus, the visitor of Sifnos can find marvelous decorative ceramic objects, made by the dexterous hands of the potters, who have been working for ages with knack and artistry the earth of Sifnos, creating objects of unique beauty and art; however the visitor can also watch in person the traditional way of their manufacture in one of the potter's workshops!
Earthenware
Cooking utensils (mastelo, skepastaria, tsikali etc)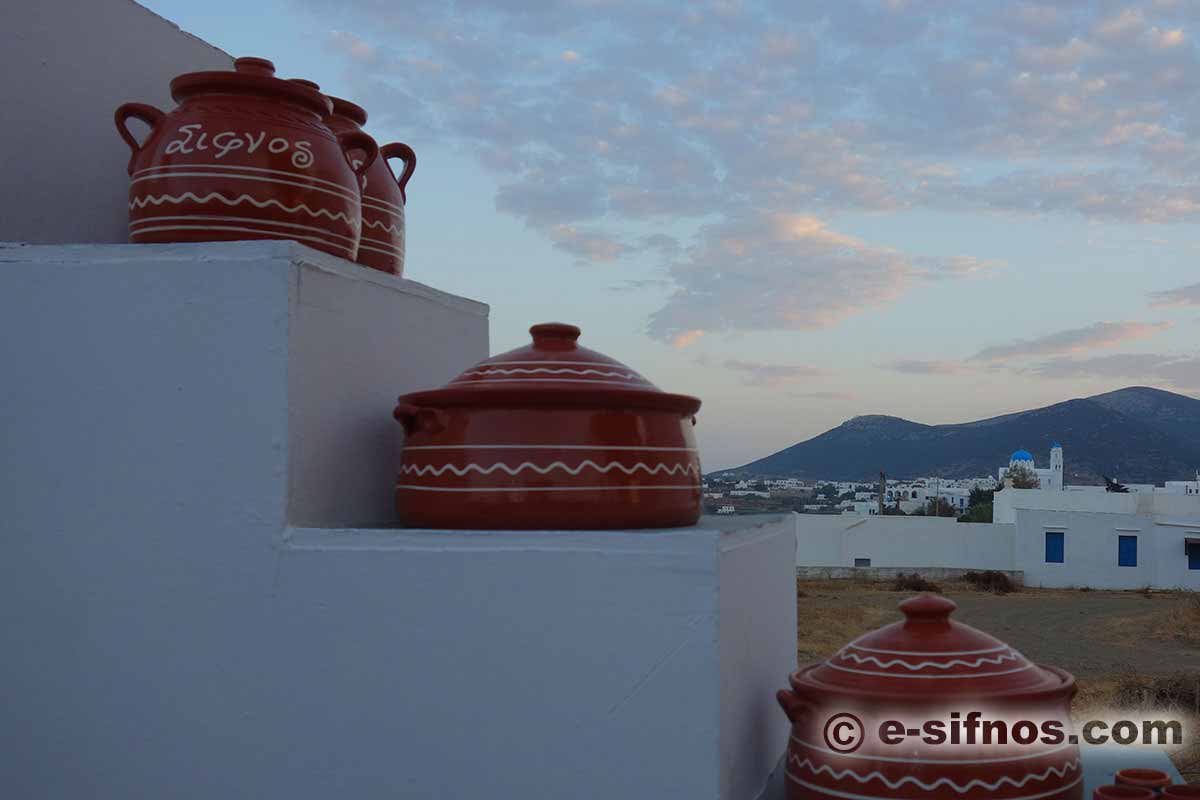 Mastelo is the earthen pot that is used in Easter to cook meat (goat or lamb). The meat is washed with red wine and is cooked in wood fired ovens on vine-twigs. Mastelo is a dish that is traditionally served in Sifnos on the evening of Easter, after the Easter Mass (Sifnos mastelo recipe)
Skepastaria is the utensil that is used to cook the traditional chick pea soup , which is cooked all night long in a wood fired ovens. Traditionally, the chick pea soup is cooked all night long on Saturday and it is served on Sunday, after the Mass (Sifnos chick pea recipe)
Utensils for liquids (crocks, jugs, half-crocks, jars etc.)
Other utilitarian objects (foufou, armeos, dipseli, flaros etc.)
Foufou is a brazier
Armeos is a milking pot
Dipseli is a beehive. It is an earthen utensil that used to be placed in holes on the mountains and where bees used to make their beehives.
«Flaros» is the top part of the clay chimney. There is a Greek expression associated with this «Ton kako sou to kairo kai ton mavro sou ton flaro» which meant that flaros was not working properly and was smoking.