Mycenaean Citadel of Agios Andreas in Sifnos
Description of the Mycenaean Citadel of Agios Andreas in Sifnos
The Archaeological Site of Agios Andreas (on the road to Vathi)
The archaeological site of the Mycenaean Citadel of Agios Andreas, which has been awarded in 2012 as an "excellent example of display and enhancement of archaeological remains" by the European organization Europa Nostra, is one of the most important archaeological sites of Sifnos.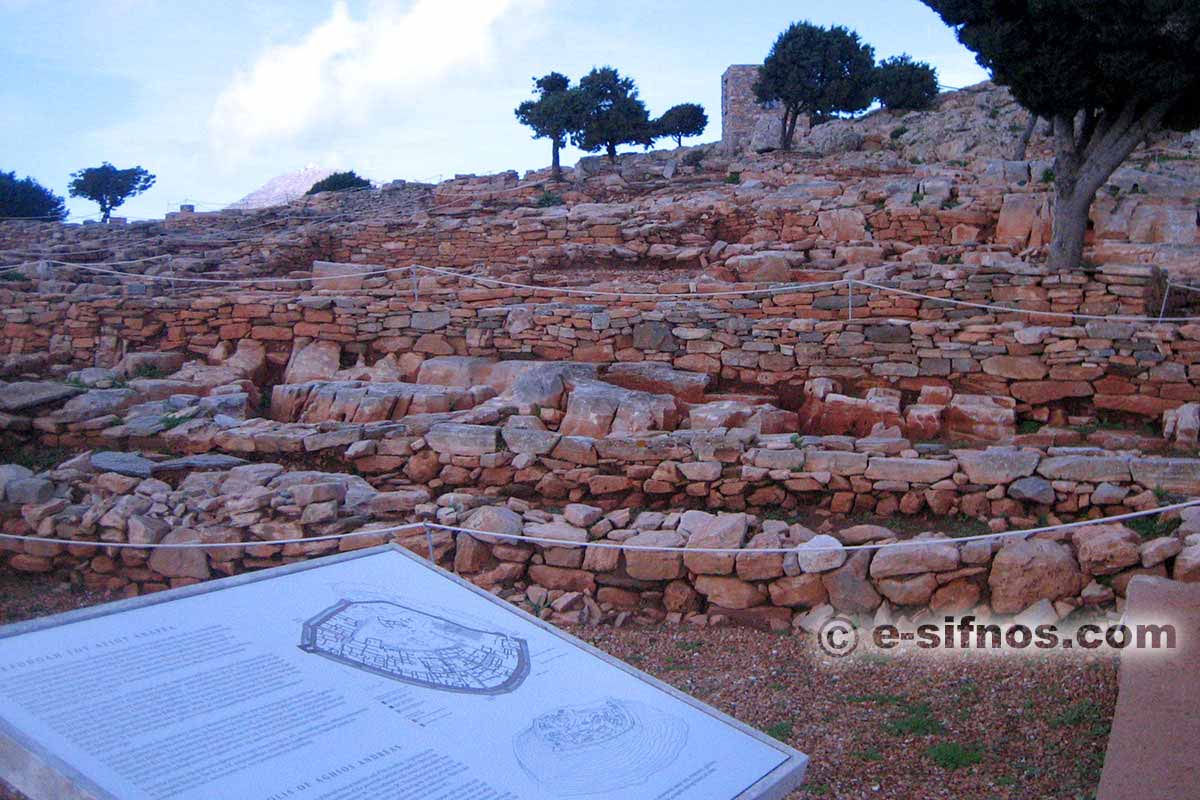 The archaeological findings here show that the place has been constantly inhabited from the Mycenaean to the Hellenistic times. The excavations have brought into light a big part of the Mycenaean wall of the 12th century B.C. in that wall there are ruins of five buildings, which were possibly residences.
At the entrance of the archaeological site there is a museum, which hosts the findings that were discovered during excavations.
You will find the Citadel on the way to Vathi, on the hill of Agios Andreas, which is situated on your right, a little bit after the Monastery of Firogia (16th century).
On the hill of Agios Andreas there is the homonymous church (St. Andrew), which dates back to 1701.
Even if ancient findings are not among your interests, it is worth visiting this site, since the view from the highest spot of the hill is magic and it will compensate whoever decides to visit it. Enjoy the view of all the central villages of Sifnos such as Apollonia, Artemonas, Ano Petali and Katavati right in front of you and in the background you can see the ancient village of Kastro and the Aegean Sea.
There are two ways in which you can access the ancient site: the easy way, which is by car, since in the last years a road has been constructed that leads to its entrance and the hard way, following the stone built path. The ascent to the top of the hill is not particularly difficult, it takes around 25 minutes and it is possible via a narrow winding path.
Opening hours
Monday, Thursday, Friday, Sunday: 08:30-15:30
Information: +302284031488
Gallery