Entertainment in Sifnos
Have fun in Sifnos and discover its festivities
Night life in Sifnos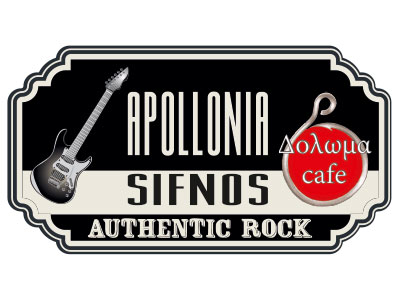 Apollonia, Sifnos
Doloma, which is very popular among all the fans of fun in Sifnos, has opened its doors once more...
Open:
JAN
FEB
MAR
APR
MAY
JUNE
JULY
AUG
SEP
OCT
NOV
DEC
Entertainment
In Sifnos, the night has its own identity. Lounge café-bars for pleasant evenings harmoniously combined with Clubs with loud bits for wild fun till morning.
Enjoy your drink in a relaxed atmosphere at the beach of Platis Gialos, Faros, Vathy, or Kamares or choose the unique atmosphere of the café-bars in Kastro and Artemonas. In contrary, choose Apollonia for a lively and merry evening, with loud music, lots of up and down walking and end your night in one of the clubs of the island that are open till the early morning hours.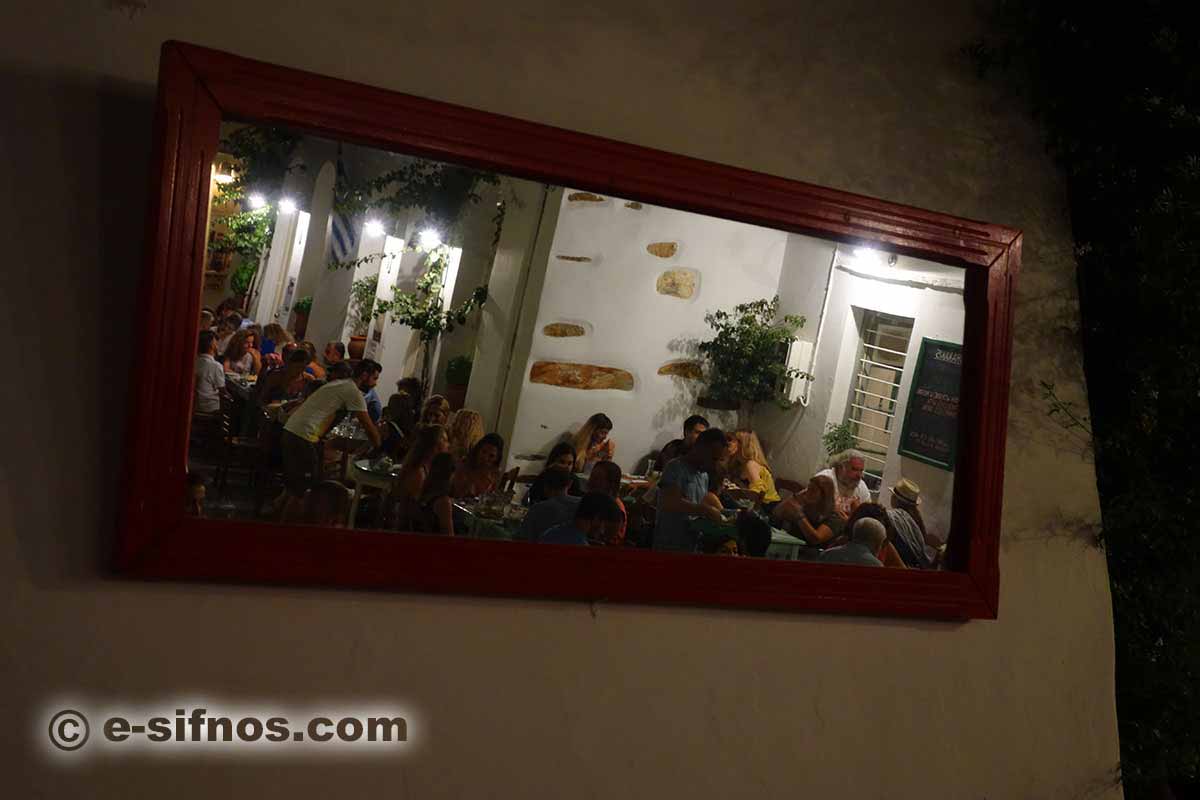 Café-bars for a relaxed drink which are open all day with rock, latin, and lounge music you will find
in the picturesque narrow street of Artemonas right off the square
at the beautiful Kastro, both in the settlement and the regional trail overlooking Antiparos
at the stunning beach of Platis Gialos, on the seafront
by the sand of the romantic Faros
in the picturesque Vathy, by the seaside
in the entire region of the stunning Kamares and Agia Marina
in Apollonia, on the main road with fantastic views of the east and the picturesque cobbled street.
For bar with more intense paces and special cocktails you will prefer Kamares, and Apollonia. The alley of Apollonia will surely win you while if you are in the mood of clubbing, Apollonia is the only choice.
If you choose to spend the evening with wine or tsipouro, in Sifnos you have many options. Restaurants and cafes that stay open till late, you'll find in Kamares, Faros, Cheronissos, Vathi, Pano Petali, Artemonas and the alley of Apollonia.
Feasts
The inhabitants of the island, respecting the customs and traditions, organize feasts in chapels and monasteries throughout the year.
After the vespers, guests are offered food, cooked in traditional fireplaces the so-called "panostries". Slow baked chickpea stew is the first dish served followed by veal with pasta. Wine flows plenty and fun is accompanied by the traditional «takimi», a pair of instrumentalists with violin and lute while people who attend the feast sing along. Most times the fun lasts until the early hours, with lots of dancing and improvised quatrains, the so-called "poetic". The people who undertake the organization of the feast, the «panigirades», also undertake all the costs of the feast.
Do not loose the opportunity to visit them! Ask the locals if some of the days of your visit there is any feast. You shall live a unique experience!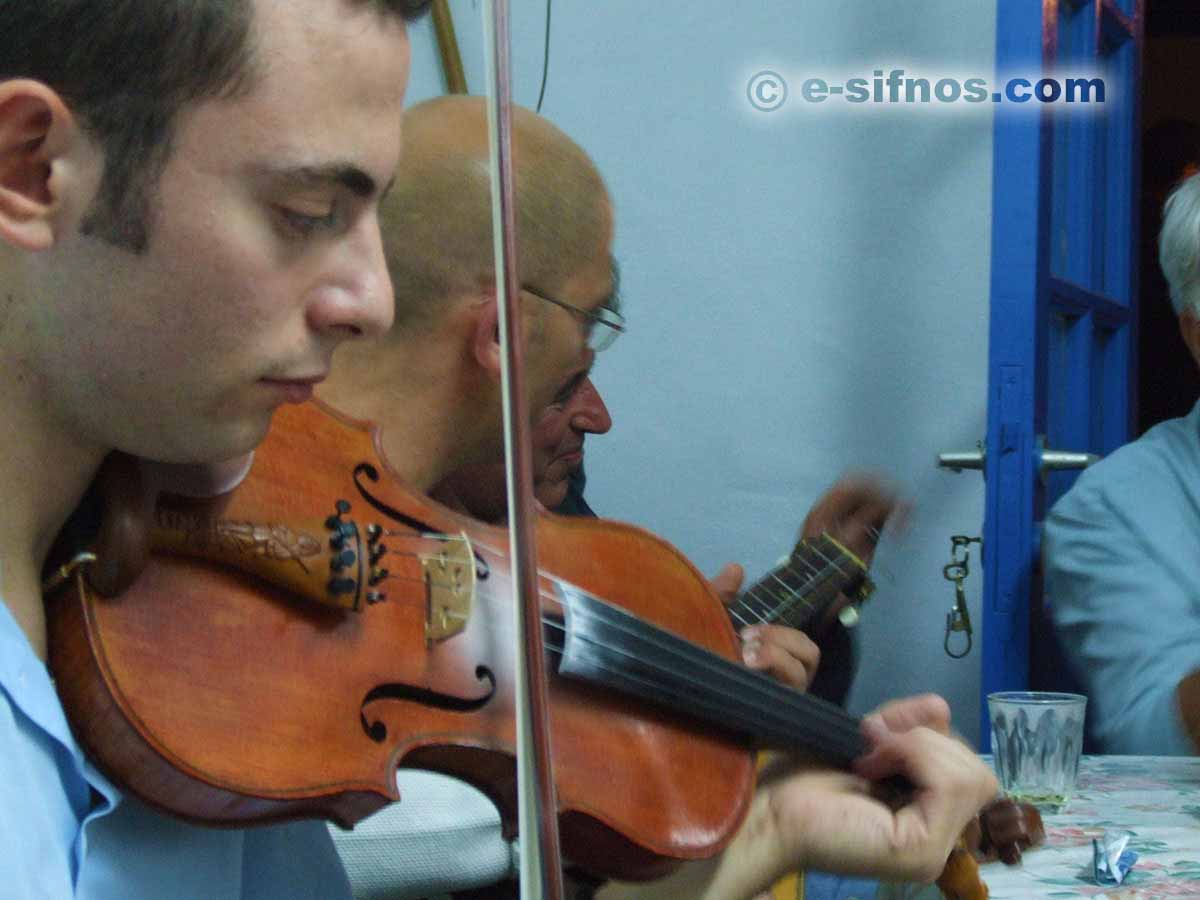 Some of the feasts, which are celebrated during the tourist period, are the following:
May or June (movable feast):The feast of the Assumption, when the protector of Sifnos is celebrated. Chrissopigi!
19 of June: The feast of Profitis Helias (many synonymous monasteries in Sifnos celebrate). It is worth going to the feast of Prophitis Helias Apsilos.
26 of July: The feast of Agios Panteleimonas in Cheronissos
14 of August: The feast of Panagia (Virgin Mary) (many synonymous monasteries of Sifnos celebrate). It is worth going to the feast of Panagia "to Toso Nero" (which means: So Much Water)
28 of August: The feast of Agios Ioannis Nisteftis in Faros
31 of August: The feast of Agios Simeon in Kamares
5 of September: The feast of Taxiarhis in Vathi
6 of September: The feast of Agios Sozon
8 of September: The birthday of the Virgin Mary at the Iera Moni of Vryssi in Exabela
13 of September: The feast of Stavros in Faros and in Choni
14 of September: The feast of Agios Nikitas in Seladi
Learn more about the religious feasts of Sifnos